and subsequent on women peace & security

| | |
| --- | --- |
| G5 Sahel Logo | Source: G5 Sahel |
Revolution of Dignity
Responsible Author: Ahmed Rasheed, Ali Hafthi | Iraq, 10/03/2019, 18:51 Time
USPA NEWS -
Iraqi security forces opened fire on thousands of demonstrators who defied a curfew in Baghdad on Thursday and exchanged fire with gunmen in a southern city, killing two people on the third day of nationwide anti-government protests.
The protests, in which at least 20 have now been killed and over 600 wounded, began over unemployment and poor services but have escalated into calls for a change of government and pose one of the worst security challenges in years.
They appear to be independent of any political party and seemingly took the security forces by surprise.
and organisational Activities
Responsible Author: Aurangzeb Akbar | London , 09/29/2019, 01:46 Time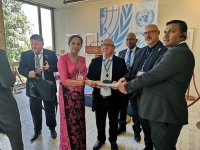 USPA NEWS -
International Human Rights Commission mission is to support and develop international information and organizational activities, as well as through active participation in current events in Europe and around the world, support of communication platforms between governments, government programs and diplomatic missions as well as participation in their creation.
To date, in cooperation with local organizations, the IHRC, has carried out humanitarian aid for over 236,000 people around the world. Through hundreds of our active volunteers associated in the IHRC Special Monitoring Mission, we are active in all corners of the world, running humanitarian aid programs, raising awareness and protecting human rights, and monitoring local social and political situations.
| | |
| --- | --- |
| | Daren Frankish |
| | RAHMA-SOPHIA RACHDI |
| | Ruby BIRD |
| | Yasmina BEDDOU |
| | Ricardo Dominguez |